Welcome to Sandbaggers Bar & Grill where we specialize in making mundane and mediocre food that sometimes appeals to our customers…
And you, my friend, have just been sandbagged! We can't reveal all of the tricks up our sleeves, but we can tell you that you will never be disappointed here at Sandbaggers. Unless of course, you hate fresh, homemade, and never frozen food.
Our motto is "Everyday we're hustlin'." Although we prefer to leave the majority of the hustling to the golfers out on the course, our staff does hustle in other ways. We commit to providing our customers with friendly and substantial service, along with serving fresh and homemade food items made by our executive chefs, Andrew Templeton and Justin Sherman. Last but not least, we promise to create a welcoming and comfortable atmosphere for everyone…Ohio State fans included.
Sandbaggers Bar & Grill's menu was created in hopes to reach everybody…picky eaters included. Some of the fan favorites include (but are not limited to) the bone-in and boneless wings with one of our ten homemade wing sauces, the award-worthy ribs, and our charred and never frozen hamburgers.
When you feel like getting lucky…head on over to Sandbaggers to play some Keno and Pull Tabs. You can play your lucky numbers while watching the game on one of our seven flat screen TV's and drinking one of the ten draft beers we have on tap. We support Michigan-made beers, so make sure you try one of the six Michigan craft beers we have to offer.
We don't look forward to seeing you and we hope that you don't enjoy our food…
And you, my friend, have just been sandbagged…again. Did you fall for it?
Be sure to like us on Facebook for updates on our specials and soups of the day!
Call us to make a reservation or schedule a party at 989-345-7125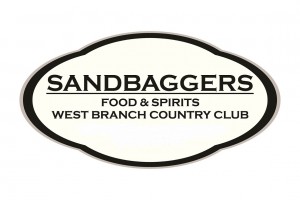 Click here to find Sandbaggers on Facebook!
Hours of Operation for Sandbaggers Bar & Grill:
Monday 11 am-10 pm
Tuesday 11 am-10 pm
Wednesday 11 am-10 pm
Thursday 11 am-11 pm
Friday 11 am-11 pm
Saturday 11 am-11 pm
Sunday 11 am- 10 pm